With the Ibiza season now in full swing, we decided to take advantage the island offer and hit the clubs. We teamed up with our friends for a 4-day marathon, visiting the island's most iconic venues for six memorable events. Check out what parties we went for and why you should follow our clubbing scenario when in Ibiza.
 Day 1: 

Wednesday – Paradise DC10
Our Wednesday party choice couldn't be more obvious. We decided to spend a night at Jamie Jones' house of Paradise in DC10 located in an old farmhouse at the end of the airport runway. With its solid reputation as hedonist's hideout and Paradise's promise to take us into the true haven of musical indulgence, we were more than excited to step into the club for a boogie. 
The head honcho Jamie Jones has been steering Paradise to success for many years, and this season is no different. 17 July 2019. That night the legendary DJ brought to us the all-star lineup featuring Maceo Plex, Richy Ahmed, Nicole Moudaber, Josh Wink along with other underground talents. 

Ready, steady, go! We arrived at DC10. The queue which snaked around the venue just as we got there around 1am only proved that Paradise continues to be the clubbers favourite night. The famed rave which is going strong for the 8th season was already in full swing and ready for the excited crowds. DC10 Garden was bursting with colours, decorated with magical lighting to create a vibrant Paradise atmosphere. We could already hear the music emanating from both rooms, so wasting no time we stepped inside the club for a boogie.
Following this year's 'Colour Odyssey' theme centred around lights and the entire colour spectrum, the DJ booth in the far left corner had a colourful decor and a red neon sign above reading Paradise. Both Terrace and Main Room had minimal lights, a killer sound system and, what's actually rare in Ibiza, working air conditioning! We were so relieved. The hypnotised crowd was dancing to the deep tunes. It was busy in both rooms, but you forget these things when you get lost in the music.

A highlight of the night was, of course, Jamie Jones B2B Maceo Plex behind the decks. This combination could only mean a spectacular night. The atmosphere went through the roof, as they delivered massive drops and groovy anthems to keep everyone dancing.
Favourites of the night included Josh Wink, a real pioneer of techno, who played one of the last and heaviest sets of the night. In the other room, Nicole Moudaber delivered a great set attracting generous crowds and spreading her infectious techno vibes through the speakers. 
Paradise definitely offers something different. The reason everyone wants to be here is simple, epic tunes presented in a great atmosphere and energetic crowd. This is by far one of the best nights in Ibiza and the perfect way to kick start our marathon. 
Check out upcoming Paradise events and get your tickets here.
Day 2: Thursday – Solomun + Live Destino
Presented by DestinoMakers, the concept of Solomun +LIVE is in some way similar to his Sundays at Pacha. Only this time the techno-wizard invites a special guest to play an exclusive live set before he takes over the decks himself. Bringing live sets to the stunning open-air Destino Resort, and featuring the likes of GHEIST who promised to take us on a musical melodic journey, we knew we just couldn't miss this one.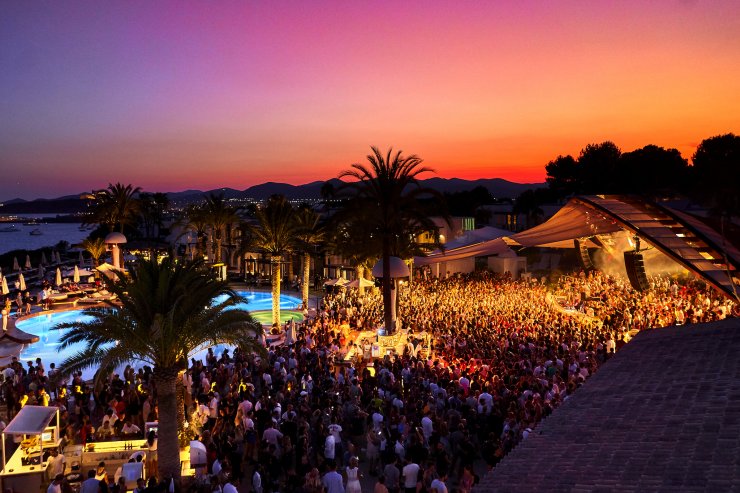 Ready for the round two, we stepped into the stunning venue just after 8pm. Situated on a cliff high up over the sea, Destino Pacha Resort offers a perfect backdrop to the day time parties. Sunset sessions here are on the entertainment menu. Dancing under the stars around the pool, parties here have a very special ambience.
As we arrived, Solomun guest GHEIST stepped on the open-air stage for a live performance mixed with immersive techno for a mind-blowing show we've never experienced before. For a band launched just three years ago, GHEIST has achieved a lot. This Berlin-based project has taken their unique melodic sound to coveted venues like Watergate, Fuse Brussels and Egg London and now took over Ibiza's Destino venue. Known for their groovy hybrid sets and live performances, the quartet has captivated the audience delivering a very special vibe in the alfresco setting.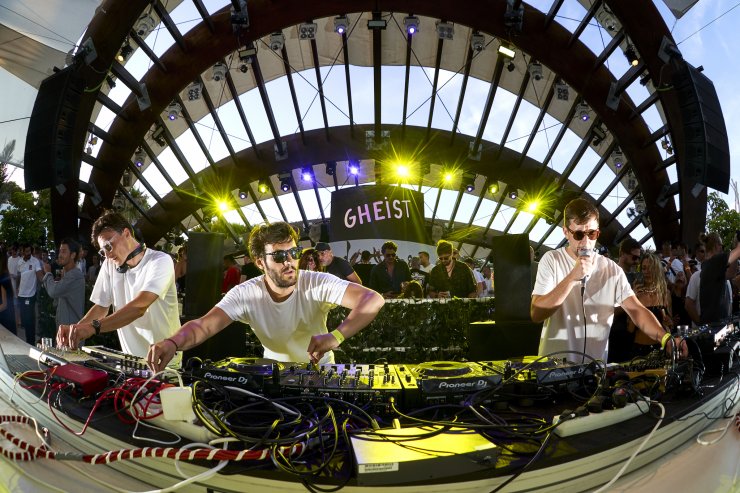 As dusk started to change the colours around the gorgeous venue, the legendary Serbian artist took over the decks with a show that mesmerised the crowd whilst he filled the venue with melodic and sentimental deep house beats that went harder as the sky turned dark. Drawing from multiple styles, Solomun once again proved why he remains one of the island's favourite DJs. From banging techno to melodious tracks, Solomun brought it all. His signature sounds and mind-blowing production added the final touch to the party which hosted a massive crowd dancing every tune on the dancefloor as if there was no tomorrow. 
Midnight has sadly marked the end of the event, so we left content yet hungry for more. 
Check out DestinoMakers events calendar and get your tickets here.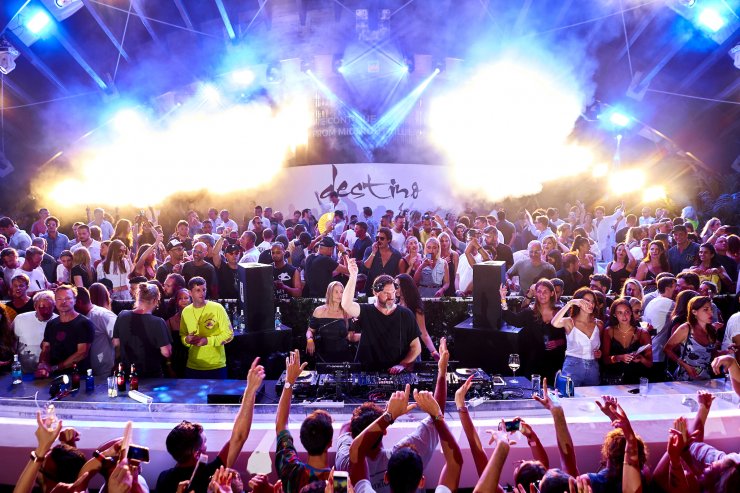 Day 2: Thursday Night – Afterlife Hï Ibiza
Thursday night got us spoilt for choice: Afterlife or MusicON. Weighting pros and cons (or rather 'pros and pros') we decided to hi Hï Ibiza club and check out the Tale Of Us for the first time. On our way back from Destino, we stopped by one of the Playa den Bossa bars to take a break to refresh and about two cervezas later we were ready to continue the marathon.
Excited for the night to come, we stepped into the multi-award venue for the first time this season. With the state-of-the-art design and a second to none sound system, this Ibiza superclub has been home to world-class performances since its inception in 2017. With this in mind, we were sure Afterlife could be nothing short of spectacular. The line up included legendary Nina Kraviz for her second appearance in Ibiza this 2019 season, German duo Âme, Mind Against and more.
Divided into two rooms, the Theatre and the Club, this island venue is famous for its impressive production, including spectacular light shows with set-up changing completely every night. The club also has two open-air areas with lots of vegetation and sensory decor, including multiple themed bars and even a Secret Garden with teepee tents for those who need a rest. Not to mention VIP areas spreading from the Theatre into the rooftop zone. 
Curated with immersive and forward-thinking, Afterlife is run by Italian duo Tale Of Us. With a reputation for sensory-stimulating soundtracks and out-of-this-world production, Thursday night party takes over both rooms of Hï Ibiza welcoming thousands of clubbers for an epic journey to the Afterlife.
We stepped into the Theatre. The room is truly impressive, with a powerful sound system, phenomenal moving lights and probably the most dazzling laser show we've ever seen. Above the DJ booth hangs an oversized model of a man suspended upside down. A German duo Ame, made of Kristian Beyer and Frank Wiedemann, were in control of the decks. Since they started making tracks in 2001, they have challenged club-goers' expectations with their conceptually driven sets. With their energetic performance, Ame took the entire Theatre to the moon and back.
Moving into the Club Room, it turned out to be a much different affair with Nina Kraviz. Russian DJ wasn't messing around. Her set was full-on, four to floor Techno. Definitely not for the faint-hearted! The Club Room seemed much darker than the Theatre and so the vibe felt much more intense. Twisted dark techno completely dominated the space taking clubbers into a hypnotic journey.
At 3:30am it was time to dive into the deeper state of the consciousness. The lights dimmed and the Afterlife figure descended and Tale of Us began their set taking us on a musical journey, delivering an experience for all our senses. They served us not just with auditory pleasures but also a visual stimulus completely captivating our minds and bodies and setting the crowd into a meditative state. At some point during the night, we moved towards the stage and spotted Solomun between the duo mixing the tracks. Afterlife has proved us it's a stellar production with world-class talents and out-of-this-world production that had the dance floor packed the entire night. 
Spectacular is an understatement! Afterlife definitely is one night that you can not miss when on the island. Check out the upcoming line ups and get your tickets here.
TBC…