The adventures of the feeder insider bear in 2016
2016 was a busy year for the feeder insider bear. 31 interviews explore the new universes surrounding music and visual arts while connecting the local to the international creative scene. Wanting to expand the dialogue between the Romanian public and the artists of the moment, we spark off inspiring conversations around today's artistic landscape with newcomers and veterans alike.
80 .care?Cutare – ro
81. H.E.R – uk
82. Salome Calvino [Sakadat] – fr
83. Nu Zau [UVAR] – ro
84. Oana [Ariki] – ro
85. Vinyl Speed Adjust [Visionquest] – ro
86. Lola Palmer – ua
87. Brosmind – es
88. Scott Kemp [LDN] – uk
89. Vika Tonu – ro
90. Rubi [CMYK] – es
91. Sepp [UVAR] – ro
92. Matei Branea (Branealand) – ro
93. that couch funk collective – ro
94. Tudor Prisăcariu – ro
95. Soul Clap [Crew Love] – us
96. Angela Ciobanu – ro
97. Paul Dunca [CNDB] – ro
98. Aural Eye – ro
99. Jon Rundell [Desolat] – uk
100. Marco Faraone [Uncage] – it
101. Archie Hamilton [Moss Cow] – uk
102. Premiesku [Desolat] – ro
103. Citit În – ro
104. Rizi – ro
105. Andrey Pushkarev [Circus Company] – ru
106. Dragoș Motică (Ubikubi) – ro
107. Vhils – es
108. Simina Grigoriu [Kuukou Records] – ro
109. Robert Dietz [Desolat]- de
110. Francesca Lombardo [Crosstown Rebels] – uk

The bear decided on a selection of 14 interviews from 2015 and the result is the feeder insider booklet #02 which features conversations with Saddo, Primărie, Brosmind, Livia Coloji, Gus Gus, Karim Rashid, Tokyotoys, Ioana Sisea, Yomsnil, Julie Marghilano, The Model, Borusiade, Olga Ziemska și Roman Tolici.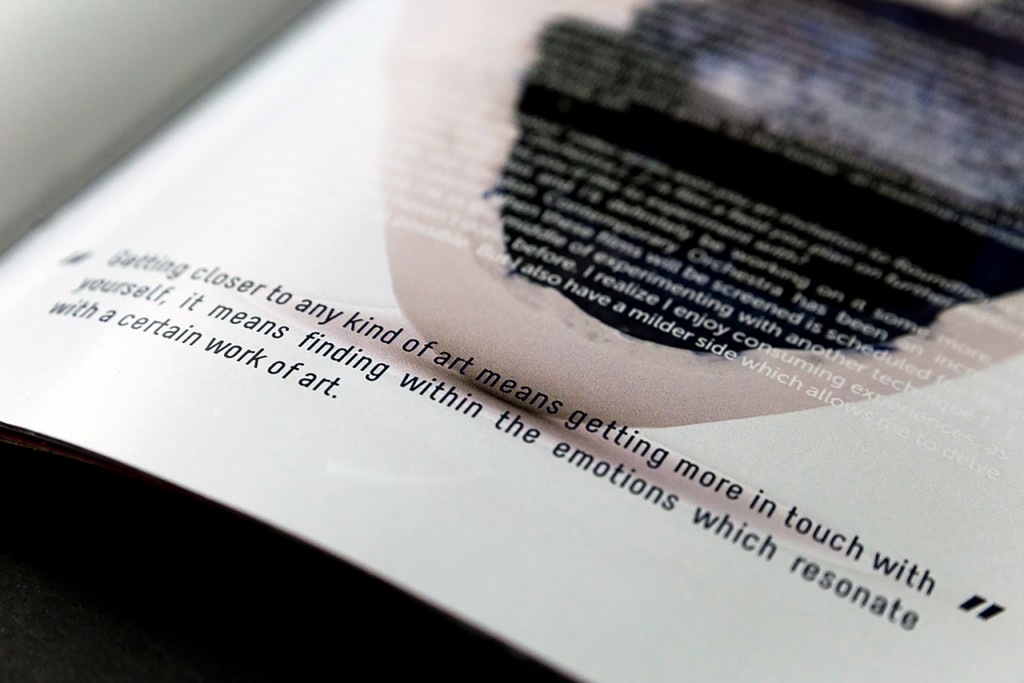 Ioana Sisea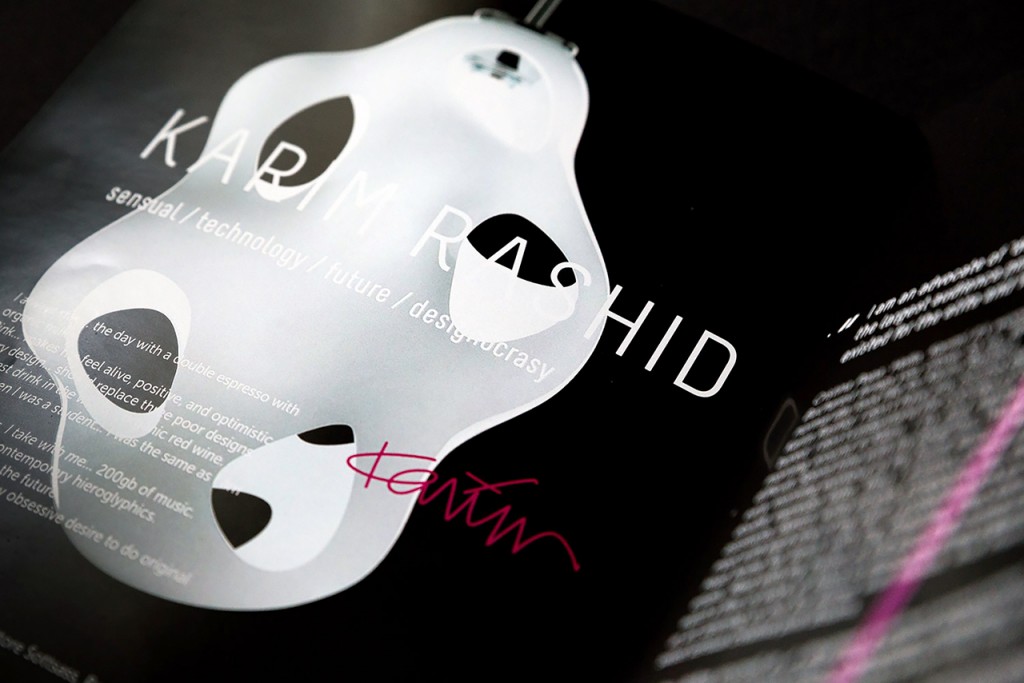 Karim Rashid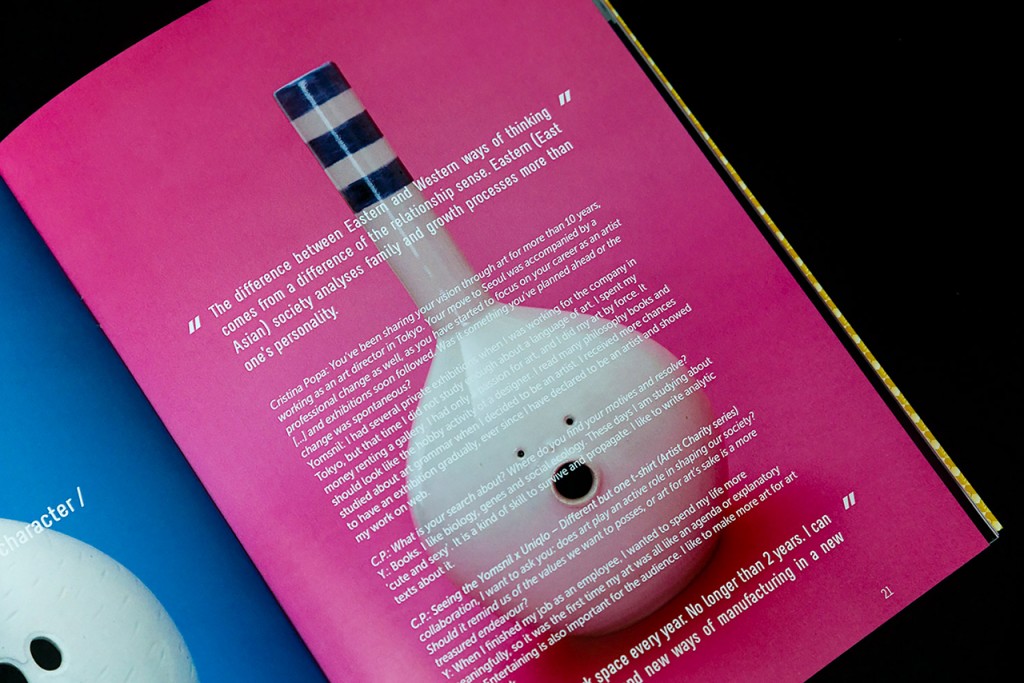 Yomsnil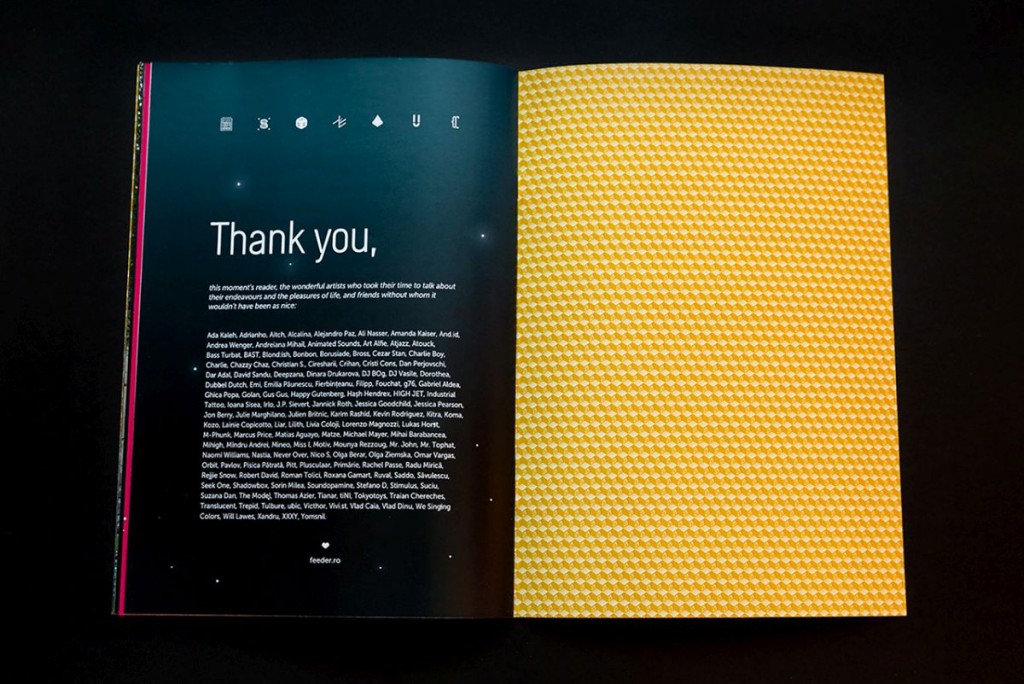 Credits:
Production: Save or Cancel
Editors: Violeta Năzare, Alexandru Bogdan Pribu, Cristina Popa
Concept & layout: Cristina Popa, Andrei Racovițan
Illustrations: Tokyotoys
DTP: Cristiana Costin, Ana Dămoc
Photos: VJ VLC, Kundalini, Corrado Camerani, Ari Magg
feeder insider booklet #02 – the making of
The booklet could be previewed in May, at Romanian Design Week, and since the ? likes the public to interact as closely as possible with the artists and their work, he started to put together three pop-up galleries:
In July the feeder insider booklet #02 pop-up gallery took over Kube Musette, on Victoriei Avenue.
Video making of – feeder insider booklet #02 @ Kube Musette
In August, feeder insider booklet #02 held a new edition of pop-up gallery, with works by Pisică Pătrată, Irlo, Saddo & Kitră, in the Eugene Popesco hall, at Palace Universul.
In September, an evening full of creative relaxation amongst the works of
Kitra
,
Saddo
,
Irlo
and
Pisica Pătrată
took place at 
Lente
(Dionisie Lupu), as a third installment of the 
feeder insider pop-up gallery
.
Since winter is here, here is a list of 13 cool places where you can find the feeder insider booklet #02 there if you want to have some inspiring topics to talk about while out in Bucharest, Timișoara or Târgu Mureș.
2017 is just around the corner and the feeder insider story continues so stay tuned for some electrifying conversations with the artists you love.
Who do you want to see featured next year?
Words by Vlad Dumitrescu
Photos & videos by feeder.ro